Investigating reuse markets: recyclers hope to strengthen export markets through a new electronics association
Electronics recycling is one of the most talked about businesses in the scrap industry, but estimates of how much scrap is out there vary widely. The National Safety Council published a study in 2000 that assumes the average lifespan of a computer is three years and that calculates tonnage based on that figure.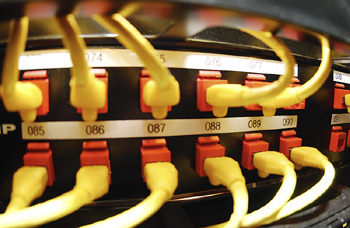 While it has been useful as a tool to gear up the electronics recycling industry, no one responding to the National Safety Council study survey ever purchased a used or refurbished computer.
This study's methodology, if applied to automobile scrap (surveying only new car buyers), would obviously capture the entire used car business in the "discarded" weight.
Is the PC reuse and refurbishment market real or just anecdotal? For one component of the computer--used monitors-demand is very strong indeed.
Since it was established in October 2004, the World Reuse, Repair and Recycling Association (WR3A, www.wr3a.org) has received purchase offers for more than 130,000 used monitors per month. The monitors being solicited cannot be broken or scratched, cannot have letters burned into their screens, cannot be monochrome or fail several other tests (such as Apple or Sony models that are excluded because of their certain screen curvatures).
Prices in the purchase orders average more than $5 per monitor. Clearly, the unit does not contain enough copper for that price to be based on scrap value; and if they were being sold for scrap, the "bad" monitors would be just as acceptable.
There are, however, allegations and evidence that some "sham" companies charge a full recycling and destruction fee just to export junk.
The "Pledge of True Stewardship," developed by the international environmental group Basel Action Network (BAN, www.ban.org), Seattle, and the Silicon Valley Toxics Coalition, San Jose, Calif., displays a list of companies promising never to export any scrap computers. BAN's Jim Puckett says that such exports are illegal.
LEGALITIES. Which monitors are safe and legal to export? The answer varies. If recyclers export everything, including junk TVs and obsolete monitors, they are shipping "toxics along for the ride." Just as clearly, if recyclers forgo revenue from working and repairable monitors and destroy everything, they are making recycling more expensive here and computers more expensive in countries like India (which has the fastest growing software industry worldwide). How do recyclers determine which markets are legitimate?
"While re-use and bridging the digital divide are very worthy goals, we must not allow these excellent motivations to be used as an excuse for further perpetuating the 'digital dump,'" Puckett says. "In accordance with the Basel Convention obligations and decisions, prior to export, used electronics from developed to developing countries should be tested and certified as either being fully functional or requiring only repairs that will not entail discarding a hazardous component, such as a CRT or circuit board."
Robert Tonetti of the U.S. EPA recognizes the limits of jurisdiction when it comes to reselling commodities for their "continued intended use." He says there may be questions about how much refurbishment is necessary, but in general he agrees that a monitor sold for positive revenue does not resemble waste.
In the spring of 2005, EPA will issue a new "CRT Rule" addressing criticism that the export market is being used as a "digital dump." He says that the EPA's new CRT ruling will clarify what documentation is expected of exporters, and he expects the EPA to tighten standards for export in the coming months.
Overseas, many of the "bans" on importation announced in the past, particularly in China, were not related to waste at all, but addressed "dumping" in a below-cost sense of the term.
Despite occasional tariff and non-tariff barriers in regions where an OEM market is "protected," the Basel Convention's Annex 9 explicitly allows export to less developed countries for the purpose of reuse and repair. However, steps should be taken to make sure that those shipments are legitimate and not a "sham" program designed to avoid disposal costs.
For its part, the WR3A plans to develop rules for members to follow when they ship monitors overseas and will revisit and improve those rules based on actual experience. Membership in the cooperative marketing program will require buyers and sellers to meet several safeguards, such as pre-and post-shipment inspections, agreement to third party dispute resolution and proof of capacity to manage "bad" material, i.e. employment of the CRT Glass Test (demonstrating shipments of bad CRTs for domestic recycling) developed by American Retroworks. Perhaps most importantly, WR3A will not be "membership-fee dependent" and will immediately kick out any bad actors from its cooperative marketing scheme.
OPPORTUNISTS. The increasing demand for good tubes, and the increasing quality of tubes turned in for asset recovery, has created more opportunities for recyclers. (In 2004, more than 100 new computer recycling companies listed themselves on the Internet.) But it also has created an opportunity for sham recyclers as well and an excuse for new equipment manufacturers to crack down on refurbishing competition.
There is always a temptation to mix bad, un-repairable and outdated monitors into loads of repairable monitors. Several overseas buyers have approached WR3A to complain about less scrupulous U.S. monitor resellers.
"If I want 50,000 monitors per month, it seems I have no choice but to buy 80,000 monitors per month," says one supplier, who asks not to be identified. "They get free disposal, we get poison." Another used CRT broker came to visit WR3A from Taipei in November, carrying dozens of photos of CRTs imported from Los Angeles, which were "simply garbage," the broker says. "We called to complain, and all they said is, 'So, don't pay us.'"
Some larger Chinese semi-knockdown (SKD) makers have given up on sourcing enough used CRTs and have begun using new LCD screens for their TV "kits."
Some new equipment manufacturers, especially in China, have also become concerned at the growth and scale of the refurbished market and are trying to use environmental fears to cut off the supply of CRTs for refurbishment.
How big a threat are refurbishers to the new TV and monitor makers? It does not pay to underestimate the secondary market. In November, the Wall Street Journal profiled Lu Guanqiu, one of China's wealthiest men and founder and chairman of Wanxiang Group Co., that country's biggest auto-parts supplier. Wanxiang Group had $1.8 billion in sales last year and $3 billion are expected this year.
According to the Journal, when Guanqiu, his wife and five others pooled $500 to start a tractor-repair shop in rural China in the late 1960s, local officials laughed at their efforts. Now OEMs take rapidly growing refurbishment businesses more seriously.
One group opposed to export for refurbishment is the Anti-Gray Market Alliance, recently renamed as the Alliance for Gray Market and Counterfeit Abatement (www.agmaglobal.org). The group's sponsors include several electronics companies that are alarmed to see their own used products being refurbished by repair people so competently that they rival their new products.
CONSUMERS. At a one-day event in Concord, N.H., run by American Retroworks Inc., two participants bringing in old PCs had widely divergent ideas of the used market value of their units. One person brought in a 17-inch working monitor, but wanted to be assured that it would be destroyed by the recycling process rather than be reused. Another objected to paying for the recycling of his 1989 school computers because "they still work as well as the day we bought them."
Clearly, generators are not in a position to tell which monitors are for reuse and which are best scrapped domestically. The challenge is for electronics recycling companies to explain reuse and repairability without being accused of exporting toxics overseas.
Even WR3A has considered that in the long term CRT reuse will become an energy issue ... LCDs use less power and contribute less to greenhouse gases. However, so long as new CRTs are being made (with 15-year life expectancies), refurbishment seems a better way to meet demand than mining and smelting new tubes.
Fortunately, the growth of domestic companies, such as Envirocycle, Dlubak, Recycle America Asset Recovery Group, Total Reclaim, ElectroniCycle, Gold Circuit, Micrometallics and others has created a convenient outlet for getting rid of the bad CRTs. Ten years ago, used CRT brokers did not have many choices when it came to sorting out the bad units. Today, it is simply a matter of paying the cost.